Club Chairman's comments on Larne Athletic's Club 30th Anniversary in 2018.
"Larne Athletic Club has been a big part of my life for almost thirty years. Joining the club has not only given me the opportunity to indulge my passion for running it has also been a source of camaraderie, laughter and long lasting friendship and I have always considered it an honour and a privilege to be a member of Larne AC and to serve it on and off over the years as a member of the Committee and especially as Club Chairman.
It is with considerable personal pleasure, therefore, that my position as Chairman enables me to formally thank, on behalf of the Club, the founding members of the Larne Athletic Club whose foresight, dedication and determination are the reasons why we are able to celebrate the Clubs thirtieth anniversary.
I also want to thank the Club's sponsors and supporters over the years, all the members of the Club who have given so generously of their time to sit on the Committee, every member of the Club who has helped in any way at Club races and other events and members of the wider community who have also supported Larne AC in all its endeavours. Last but not least I want to extend a special thanks to the families of all current and past Club members whose patience and support have allowed us, as members, to pursue our love of running."
Larne Athletic Club was formed in 1988. At that time, road running and in particular, 10K's, half marathons and full marathons, were very popular. Consequently a number of local runners were training on a regular basis.
Gradually small groups formed and two of these entered teams in the 1988 Larne relay races. This provided the competitive edge and interest in getting together and forming a club based in Larne.
A meeting for all those interested was convened and held in the McNeill Hall in early October. All were agreed that a club should be formed and a steering committee was elected.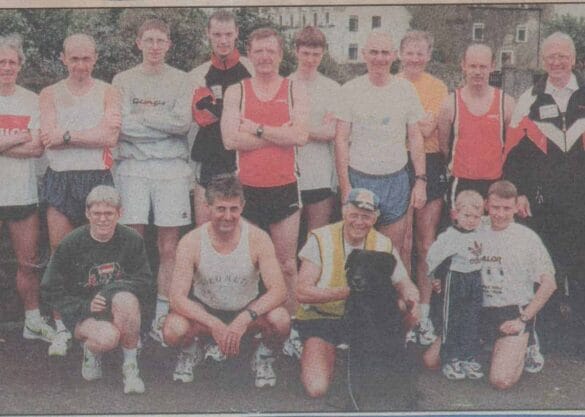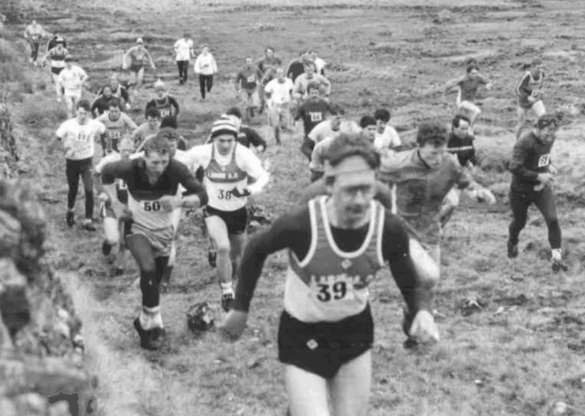 Chairman – Keith Millar
Secretary – George Dummigan
Treasurer – Chris Cassiday
Race Secretary: Billy Magee & John Agnew
Other pioneer members were: Jimmy McAllister, George Sloan, John McAllister, Ford Buchanan, Noel Greenlee, Paddy Kemp, John Barkley, Kenny McVicker & Kevin McRandal.
An application to affiliate with the Northern Ireland Amateur Athletic Association was prepared and forwarded.
On 20th October 1988 the application was considered at the Association Council monthly meeting and as a result Larne Athletic Club was accepted as an affiliated club. Club colours and design of the running strip were agreed and ordered.
The first official outing with our new strip was in the Larne Rugby Club five mile road race on Boxing Day 1988. This was to prove a successful start with the male veteran team of Jimmy McAllister, Billy Magee and George Sloan winning the veterans team prize.
The first venture into competitive running was at the Brooks International cross country at Mallusk in January 1989. Teams were entered in both the Open and Veteran events.